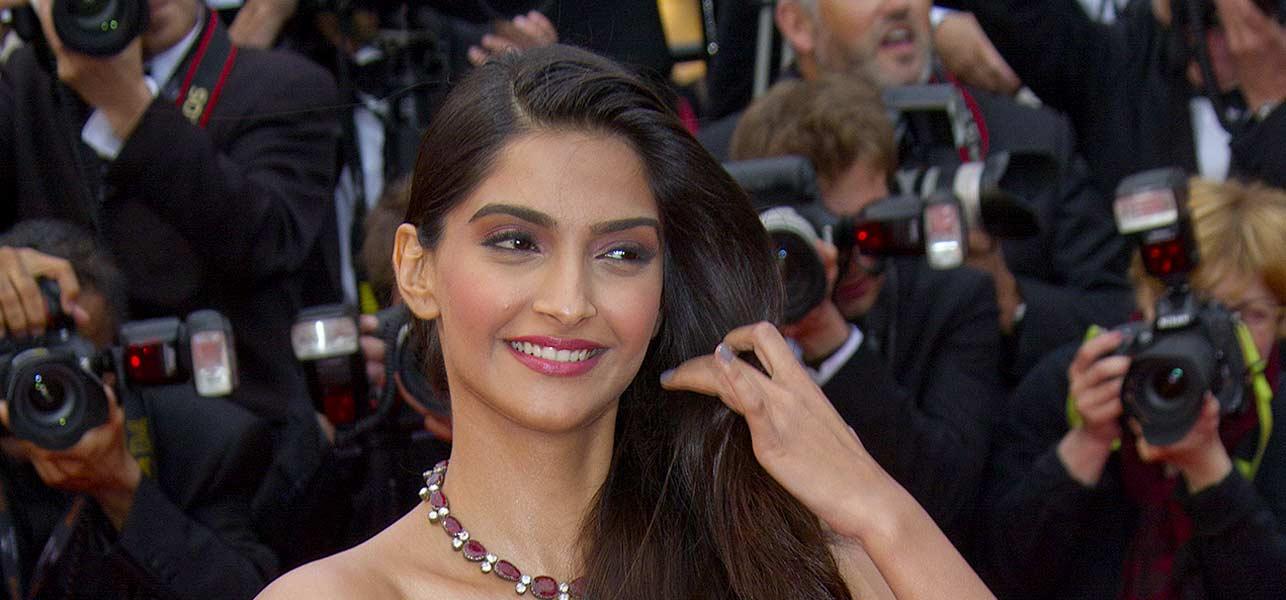 Sonam Kapoor is the daughter of Anil Kapoor, a well known Bollywood actor. Before starting her career as an actress, she worked under Sanjay Leela Bhansali as an assistant director. She made her debut with Sanjay Leela Bhansali's "Saawariya" alongside Ranbir Kapoor. The film did not do very well at the box office but her acting abilities were instantly recognized. She acted is several other movies but none of them really made it big at the box office.  She has some big banner films lined up for release which include "Ranjhana" and "Bhaag Milkha Bhaag".
Photos of Sonam Kapoor Without Makeup
Here are some unseen pics of Sonam Kapoor without makeup.
1. Sonam Kapoor at Mumbai International Airport
Sonam Kapoor was snapped on arriving at the Mumbai International Airport from Benares with her father after wrapping up the shooting of her upcoming movie "Ranjhana".  She wore a stunning black and white polka dotted dress and accessorized the dress with a Chanel Bag, golden sandals and golden earrings. She even added a belt to the dress to give her waist some more definition. This picture of sonam kapoor without make up looks stunning and graceful.
2. Sonam Kapoor in Black Trousers and Jacket
Here Sonam Kapoor is seen accompanied by her aunt Sridevi and uncle Boney Kapoor. She was probably on her way to the 65th Cannes Film Festival. She looked chic in black trousers and jacket and carried a blue bag to add a hint of color to her otherwise dull outfit. . There is no trace of makeup to be found on Sonam's face. But she doesn't look fresh in this look. She looks tired and exhausted.
3. Sonam Kapoor at PVR in Mumbai
This picture of Sonam was shot at the screening of the much awaited Bond film "Skyfall" at the PVR in a Mumbai suburban theater.  Here Sonam was accompanied by Minissha Lamba and a few others. Sonam is dressed very casually in printed leggings and black loose tops with no makeup at all. Here also Sonam looks a tad tired and worked up with dark circles underneath her eyes.
[ Read: Bollywood Actress Without Makeup ]
4. Sonam Kapoor Gives Autograph to Her Fan
Sonam Kapoor was spotted at Chandigarh with a fan where she is happily obliging the girl's request for the autograph and picture. Sonam is basically a very down to earth girl who does not mind going places without her bodyguards. She looks quite different in this picture than what she looks on reel life.
5. At Funeral
This picture was taken at her aunt's and Boney Kapoor's first wife Mona Kapoor's funeral. Mona Kapoor died last year in October after battling multiple organ cancer for about 5 months. The funeral procession was led by her son and Sonam's cousin Arjun Kapoor and husband Boney Kapoor. The entire film industry gathered at the Kapoor's residence to express their deepest condolence. Sonam is seen deeply affected by the demise of her dear aunt.
6. At Dubai Film Festival
This one is one of the most circulated non makeup images of Sonam Kapoor. It was supposedly taken in December 2011 at the Dubai Film Festival. She is dressed very casually in a dress and hair tied in a bun. She still looks quite pretty in this picture. Doesn't she?
[ Read: Top Pictures of Nayanthara without Makeup ]
7. At The Time of 2009 Elections
This picture dates back to 2009 Lok Sabha Election where Sonam stepped out in style to cast the vote. She was decked up in a casual dress paired with animal print scarf, black leggings, mid-calf gladiators and ray ban glasses. This messy and un-coordinated look is not very easy to carry but Sonam has done full justice to it. Even though she has not applied makeup, she looks very fresh and radiant in this look.
8. Sonam With Her Fans
In this picture, Sonam is seen happily clicking pictures with her dear fans.  She is dressed in a simple white Kurta and denims and not once does she look tired or irritated with the constant clicking session. We totally adore this image and nature of Sonam's
9. Sonam's Stylish Look At Airport Without Makeup
Sonam Kapoor was spotted at the Mumbai International Airport departing for the 64th Cannes Film Festival in France. She is accompanied by her sister Rhea Kapoor. Here she is seen waving her loving fans goodbye at the airport. She is dressed smartly in a suit with cropped pants. But what's with this bag Sonam?? Don't you think its extra-large and pretty heavy for you to carry?
10. Sonam Kapoor With Neil Nitin Mukesh
Here the lovely Sonam Kapoor is seen with her "Players" costar Neil Nitin Mukesh on the sets. This picture was uploaded by her on a social networking site which created quite a stir in the film industry as people went speculating about her relationship with Neil Nitin Mukesh. She looks quite like a plain Jane in this picture. Certainly not a favourite de glam picture of her's