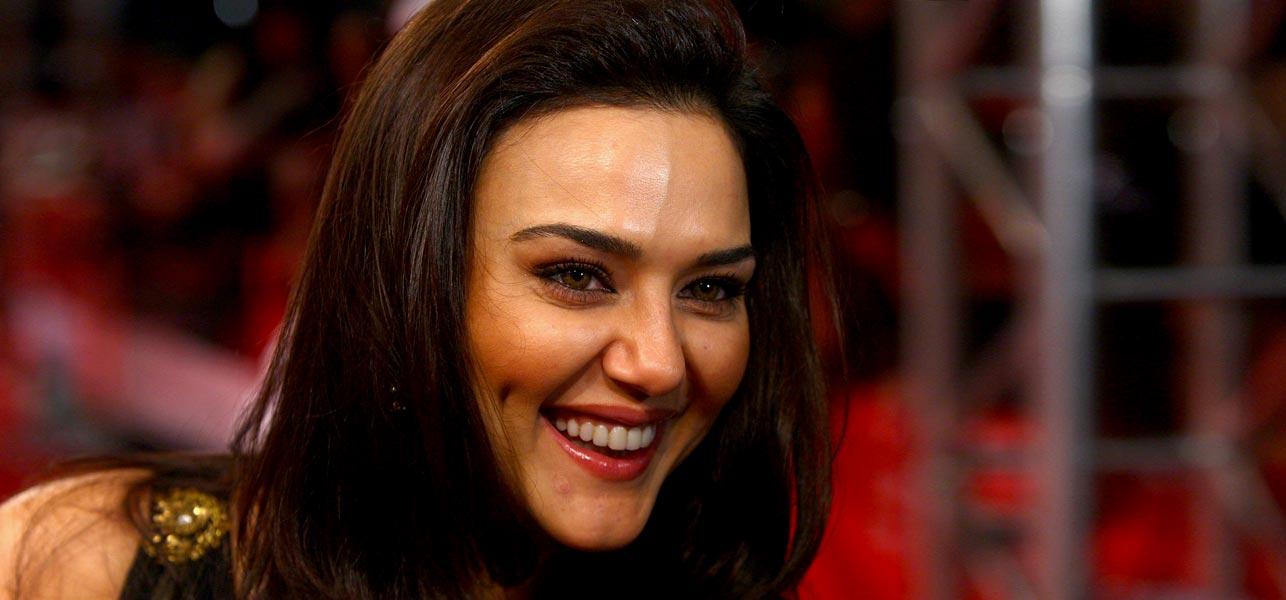 Preity Zinta is a Bollywood actress and has also appeared in many television commercials before she made it big in the film industry. Her dimpled smile and impeccable acting skills have given her tremendous fan following across the globe. But how do you think she looks without makeup?
Preity Zinta Without Makeup Images

Here are some of beautiful pictures of Preity Zinta without makeup!
1. Preity Zinta At IPL
Her trademark glasses, hair left unattended and a dimple smile has got more attention than her IPL team, Kings XI Punjab. She stood by her team, in their wins and losses, with grace and dignity.
2. Her "Kal Ho Naa Ho" Look
Her nerdy look in the first part of Karan Johar directed "Kal Ho Naa Ho" was quite commendable. Not many actresses can pull off black frame and no makeup look, especially when you are expected to look glamorous in Dharma production movies. Preity Zinta did a fabulous job as Naina.
[ Read: Preity Zinta's Makeup, Beauty And Fitness Secrets Revealed ]
3. Preity Zinta On The Set Of India's Best Draamebaaz
Preity Zinta was caught just outside the set of India's Best Draamebaaz. She wears a vibrant pink sleeveless top with pink pants. Her bag and nude pumps look ultra glamorous even though she is wearing no makeup.
4. Preity Zinta's Challenging Look
Very few times we see an actress take up roles that demands them to look de-glamorized. Preity takes up the challenge quite well and does a great job with nude lips and just a thin line of eyeliner. Don't forget to notice the nose pin, that adds a little sparkle to her face apart from her shining dimples.
5. The Sporting Beauty
Not a great time to be clicked by the media, Preity sports an over casual attire during the IPL league match, where they had to keep shuttling between cities and airports. Her hair looks all messed up, just like any normal girl who would feel after a long day of cheering and losing.
[ Read: Rani Mukherjee Without Make Up ]
6. On Her Promotion Of "Ishq In Paris"
Where all the actresses decide on A-list designers for their promotion wardrobes, here come Preity Zinta with another casual appearance for her promotion of "Ishq in Paris". She wore a T-shirt that read in French. Any guesses what it meant?
7. Preity Zinta Spotted With Lady Dandekar
This was clicked late in the night though Preity looked chirpy and energetic as ever.  Her hair tie up look is perfect for someone who had a long day at the shoot. She is accompanied by the gorgeous lady Dandekar, who looks attractive too.
8. Preity At Grand Prix
Preity was seen at Grand Prix held in Delhi, watching all the action closely. She wears a perfect dress and hat for the occasion along with gigantic shades to keep the sun at bay. Even without make-up, she still looks pretty as ever.
9. Preity Zinta Cheering Her Fans
Amidst all the cricket and cheering her team members, Preity Zinta never forgets to cheer her fans. She was found waving at the crowd several times, despite her team losing. Het short hair is just what the doctor ordered to beat the heat.
[ See: Shocking Pictures of Aishwarya Rai Without Makeup ]
10. Preity Zinta In A Perfect Desi Avtaar
She is purity personified. Preity looks pious wearing a red salwar kameez with a red tikka on her forehead which makes her look more beautiful than any makeup artist would. Accompanying her is Sonakshi Sinha, another beautiful looking lady that looks nice without having makeup on.
So whats your verdict on Preity Zinta without makeup? Leave us a comment!