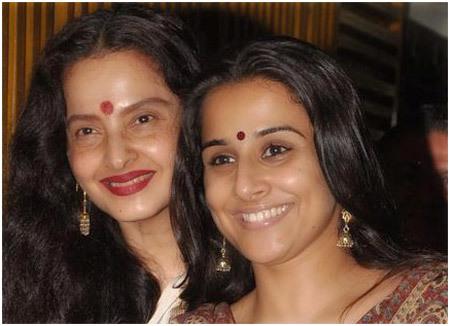 Bollywood actresses are rarely seen without makeup. While you may still come across some exceptions, like Kareena Kapoor, Katrina Kaif, Kangana Ranaut, Dia Mirza and lately Alia Bhatt, there is one glamour diva who is never seen without her makeup on. We are talking about Rekha.
A legendary actress who went from being fat and dark to becoming slim and fair, Rekha's real name is Bhanurekha Ganesan. What makes this 59 year old lady unique is her never-changing fashion look – Kanjeevaram sari, red lips and wavy long hair, mostly open or sometimes tied. In fact she's one of those actresses who stick to their personal style, no matter what the occasion and current trend.
Rekha Without Makeup Photos
Here are ten photos of actress Rekha without Makeup. Have a glance at them to know how this beauty looks without makeup.
1. Rekha And Vidya Balan
This is her most recent picture with no makeup, except of course her red lipstick. The area around the corners of her eyes is filled with crow's feet. You can also see heavy pigmentation and age spots under her eyes. The once beautiful Rekha is surely ageing, with or without makeup.
2. Rekha On Sets With Sridevi
This is a very old picture of hers taken on the sets. Here she is seen without any trace of makeup. Without the glamorous makeup on her face, Rekha is looking very ordinary, just like any other regular girl. If you notice carefully, you'll see that this picture was taken before Rekha did any skin lightening treatments. This is during her transformation from fat to fit, so a little bit of chubbiness is still there.
[ Read: Rekha's Beauty And Fitness Secrets ]
3. Rekha In Her Movie Khoon Bhari Maang
The third picture is from the movie Khoon Bhari Maang. This was a movie where, in the first part, her character needed to be shown without any makeup. In this image, you can see how her lips look pigmented without any lipstick.
4. Rekha In Sans Makeup
This image is a still from an old movie. Here, Rekha is again seen sans makeup. She is wearing her hair in a simple loose plait with a parting in the middle. This shot of hers definitely doesn't make her look like a diva.
5. Village Girl Rekha No Makeup Picture
This image of hers is again from an old movie. Here she is playing the role of a village girl and has no makeup on. The only adornment on her face seems to be a simple bindi. Rekha is looking a bit chubby, and her complexion still seems natural (which is good), so it seems this was also taken before the alleged skin lightening treatment.
[ Read: Bollywood Actresses Without Makeup ]
6. Rekha With Wet Hair In Bathing Scene
An old picture of hers that shows her in a bathing scene from one of her movies. Notice the wet hair. Rekha still looks a bit chubby here. Her skin too seems to be her natural colour. There's a certain innocence and freshness about her that's quite appealing. It won't be wrong to say that Rekha looked more beautiful in her natural avatar than with all the makeup.
7. Rekha In A Black And White Picture
A black and white picture of Rekha from an old photo shoot. Though she has minimal makeup on, she looks quite ravishing in this one.
8. Rekha with Her Trademark Hairstyle
Here Rekha flaunts her trademark hairstyle. Her long wavy hair is swept to one side of her face and she is wearing no makeup.
[ Read: Hollywood Actresses Without Makeup ]
9. Rekha with Minimal Makeup
This is one of the last pictures of hers that is still around, where she is seen with minimal makeup. Here she's wearing a winged eyeliner and nude gloss. Other than that, she seems to be without any makeup.
10. Rekha With Glowing Face
And finally a picture of Rekha with a fully made up look. Though her skin is covered up in makeup, the acne marks are very visible on her cheeks. Other than that particular area, she has managed to make the rest of her face and neck look quite smooth.
So as we keep saying time and time again, there's no beauty like your natural beauty. Of course makeup is great, but it's always a good idea to use makeup to enhance your features, and not obscure your natural look. Not only that using too much makeup will be bad for your skin, it will also end up hiding your true beauty. Go on, flaunt the 'real' you!