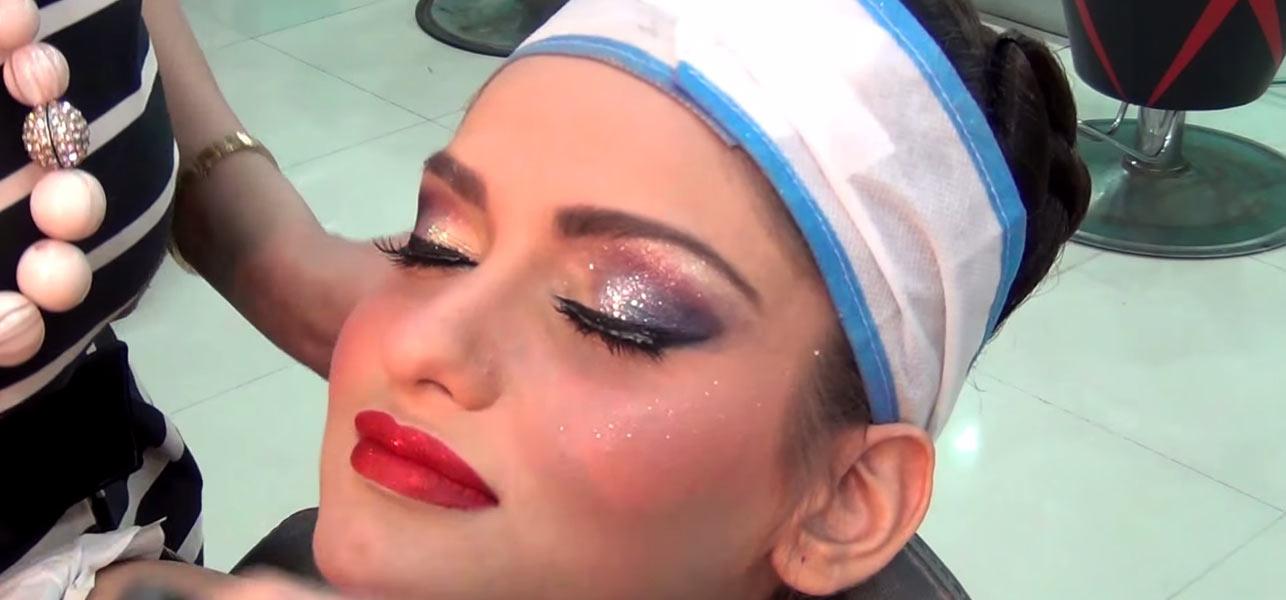 Hey you beautiful brides out there! Dreaming about your special day?! Awww, i know you want to look perfect. Capturing every memory of your wedding with all the cameras around you!! Dontcha love when that happens?!
Your plate is already spilling over with wedding plans, making sure that everything turns out right? Right from the guest list, the flowers, menus, music and the best part your makeup!
Want to look your best in your wedding video? So girls, take time to invest in perfect makeup.
Three, two, one… gorgeous! Get ready for perfect bridal beauty with my countdown. Check out these top ten bridal makeup videos, which will help you get that flawless look on your D-day.
Best Bridal Makeup Videos
1. Modern Look:
This video shows *modern look* of a bride with bold smokey eye shadow, which doesn't look OTT. If you like trying modern looks, then you'll surely love this tutorial. The smokey eye and traditional red lips will make you modern yet traditional bride on your D-day.
2. Royal Look:
Want to look like Kareena Kapoor Khan on your wedding? She looked amazing in the royal wedding look right? So, if you want a like a royal bride then video is a must watch, as it shows how you can achieve this look. Royal dresses are full of colors and include lots of gold, maroon, and peach in it and this video shows how you can match your makeup with your royal traditional lehenga.
3. Asian Bridal Makeup:
Asian bridal makeup look is a subtle makeup look which enhances your best features in an elegant way. Shimmery Eyeshadow, smudged black kohl, false lashes, red lips and perfectly shaped eyebrows are what you need to get the perfect Asian bridal look. This video shows you how to achieve this look along with some tips and tricks too.
4. Princess Look:
Wedding is the most special time in a girl's life and she want to look princess during her wedding, right? If you also want to look like a princess, then this video shows you how to achieve princess look in a very traditional way. It will go with the Indian wedding theme too. The colors used in makeup are gold, pink, blue which is traditional and almost all Indian outfits have this shade.
5. Neon Bridal Makeup Look:
Neon colors are *in* this season and if you're trendy. If thinking of wearing neon bridal outfit during your wedding then this video tutorial is for you. Makeup becomes quite tricky when you have to match it up with your wedding outfit. But this tutorial can be a life savior for you. This peaches pinkish neon bridal makeup look is perfect for summer makeup or when you wish to look like a pretty Barbie bride.
6. Arabic Bridal Makeup:
Arabic bridal makeup is a bright kind of makeup but it boosts the beauty of the bride. This bridal look is in fashion and has become trend of 2013. But Arabic bridal makeup can be tricky, as it is bright makeup and you should know when you're going overboard. This bridal make up video shows you how you can do Asian bridal makeup in the perfect and subtle way.
[ Read: Pre Wedding Beauty Tips For Brides ]
7. Classy Rajasthani Look:
If you want to look like a traditional Rajasthani bride, then this makeup look is perfect for you. This look will go really well with Indian traditional outfit with lots of customary embroideries. This makeup look is Indian and traditional yet very classy. The eye makeup comprises many colors like gold, maroon, green, purple and false lashes. Whereas, lips are kept bold maroon which is traditional and bold at the same time.
8. Kareena Kapoor's Bridal Look:
Kareena kapoor looked really beautiful during her wedding and if you wish to look like her then this video shows you how can achieve that look. Smokey eyes and flawless skin is the key to achieve kareena kapoor's wedding look. This look will go well with orange outfit like kareena wore and it will also look good with golden and maroon traditional outfit.
[ Read: Bridal Make Up Artists In Bangalore ]
9. Mythological Bridal Look:
This bridal makeup look is very traditional and perfect for Indian weddings. Achieving mythological makeup look can be tricky, but this video shows you how you can achieve this look perfectly. In mythological look, eyes are the centre of attraction and that is why eyes are emphasized. This wedding makeup look is a part of Indian culture since times immemorial and if you want to look like a perfect traditional bride then this look is ideal.
10. Traditional Bridal Makeup:
This video shows you a bridal makeup for your gold and red outfit, which is the traditional color for wedding outfits. Most of the brides go for gold and red combo while choosing their wedding outfits. So how can I forget to add this video? This video shows you how one can achieve the ideal Indian bridal look.
[ Read: Useful Bridal Tips For Indian Skin Tones ]
These are my videos for bridal makeup. And this is the final look. Bright and beautiful! Perfect style for your perfect day! Follow the above tips through these top videos of bridal makeup and you would realize that looking like a million bucks does come easy after all!