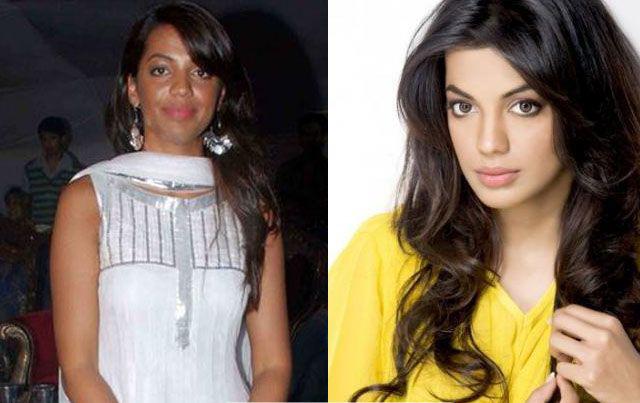 We've all seen them and lusted after their perfect looks, wishing if only we could have some of it in real life for ourselves too! Well, much as we're used to seeing these pretty ladies look hot and glamorous, maybe the everyday look, or the no makeup look isn't so glamorous every time after all. So here are the top 10 models without makeup – while some do look lovely even without makeup, some look, actually, quite plain and un-charming. Take a look.
Indian Models Without Makeup Looks
Here are top 8 Indian models with and without makeup looks.
1. Carol Gracias Without Makeup:
On number 1 here, we have the charming and gutsy model Carol Gracias. Carol has always had that utterly sexy, yet child like innocent look about her that makes her an instant favourite on most ramps. Here, she is seen on the reality TV show Bigg Boss. Carol's face is devoid any makeup. Her hair isn't styled, and looks quite frizzy, and Carol has it rolled up in a bun. Also, her skin looks extremely damaged – too much use of makeup? There are frequent breakouts and rashes on a lot of her face, as also pigmentation and dark circles. But even with all of this, Carol manages to look extremely sweet and lovely, doesn't she? And in fact, way younger than what she looks on the ramp with makeup on.
[ Read: Bollywood Stars Without Makeup ]
2. Mugdha Godse Without Makeup:
Much before she was seen in movies, Mugdha Godse was also a model. Here, she is seen in a complete no makeup look. The model's hair is simply bunched up and tied and looks like it hasn't seen a comb. Also, the dark circles under her eyes take away focus from anywhere else on her face. The eyebrows are not done, and if you see closely, one looks a little different from the other. But all said and done, her skin does look absolutely clean, in fact, other than the huge dark circles, there's barely any pigmentation or spot on her face.
3. Tapur Chatterjee Without Makeup:
Tapur Chatterjee has been a big name on most Indian ramps and been on the circuit for a long time now. Here, though she is seen in a no makeup look, she does wear some colour on her lips. A clear and glowing skin, even without makeup is what makes this picture quite charming.
[ Read: Aishwarya Rai Without Makeup ]
4. Jesse Randhawa Without Makeup:
A fun pic, the first thing that strikes about Jesse here is her chic hairstyle. Without makeup, her skin looks much darker than what we are used to see her while she has makeup on. Also, the spots and blotches are quite visible, as is the huge pigmentation around the entire eye area.
5. Achala Sachdev Without Makeup:
There's a reason why we kept the name space above blank – we want you to guess who this is. Can you? Well, if you can't here's another snap of her with makeup.
Yes, both the pictures above are of Achala Sachdev, the first one obviously without makeup. And let's admit, this is the no-makeup picture that clearly took our breath away – in a very scary way indeed! Without makeup, Achala looks old, absolutely old! I mean look at her without makeup, her skin is absolutely horrendous, dark circles eating up her eyes, lips washed out, lines, wrinkles and creases extremely evident, skin highly pigmented and uneven patches all over. Not to mention, a drastic change in skin tone, where her original colour looks medium to dark, her made up face looks fair. Clearly, she does need makeup – always!
[ See: Preity Zinta Without Makeup ]
6. Aanchal Kumar Without Makeup:
We loved her in Big Boss, didn't we? In the no makeup look, while her eyes sure were enveloped in dark circles and pigmentation, most of her skin was otherwise clean.
7. Aishwarya Rai Without Makeup:
Looking at the picture on the right, you wouldn't really call her the most beautiful woman in the world, would you? As much as we are trying to find something beautiful in Aishwarya no makeup look, it's quite a challenge we must say. The first thing that strikes us is the hugely pigmented skin and the stark difference in skin tone. Not to forget the many blotches and patches all over her face.
8. Sushmita Sen Without Makeup:
Okay, we somehow like this picture of Ms Sen without her makeup, don't you? Well, she does not look hot or sensuous here, as she almost always does, but she sure looks sweet and refreshing, doesn't she? The dark circles are definitely there, but there's something about this no makeup look that's actually quite refreshing.
[ Read: Sushmita Sen Beauty Secrets ]

International Models Without makeup
Here are 2 famous International models no makeup looks.
9. Heidi Klum Without Makeup:
An international name and a designer's favourite, Heidi Klum has rocked the ramp for years. In this no makeup look, however, she looks way older than what she does on the ramp. Though her skin is quite clear, there's something about those sunken eyes that's not working.
10. Naomi Campbell Without Makeup:
And here she is, Naomi Campbell, one of the most sought-after models anywhere in the world. Where do we begin? No eyebrows, for one. Dead tired eyes, bags under the eyes, patchy skin, washed out lips, creases, pigmentations and splotches galore – need we say more?