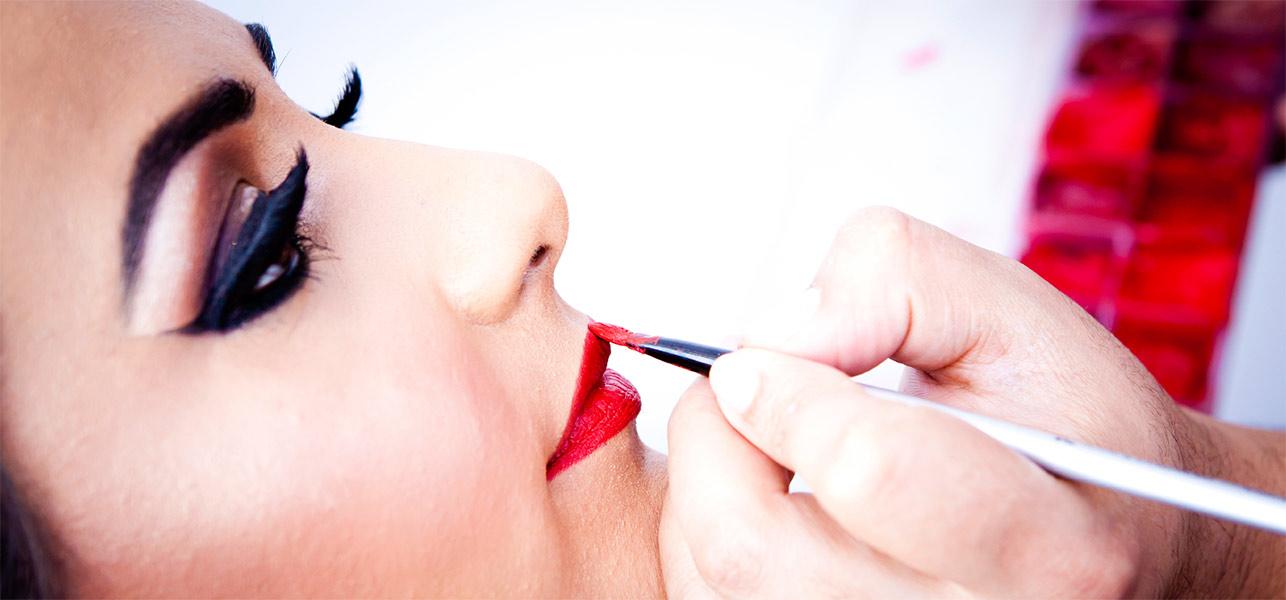 In the land of the big fat Indian wedding, the bridal makeup person is the Queen. Meenakshi Dutt is a world-renowned Indian makeup artist and beauty expert. She is known for her innovative, stylistic improvisations and her simplistic approach to beauty. Her makeup secrets are based on common sense and are very individualistic. She says that she is concerned with the complete picture – the perfect hairstyle that will go with the right accessories, complemented by the appropriate make-up for every individual.
She says that each element must come together in a composite whole to create a complete picture of utter beauty, style and panache. That is her main objective with the work she does. She has always been focused and determined, right from the start. She had won the Miss Navy Queen and Miss Delhi beauty contests and then decided to make her career as a model.
Gradually, she became a supermodel and reigned the ramp. She was most sought after at that time, and then got the opportunity to become a TV anchor and talk show host, signaling a career change. She then went on to become a style expert and makeover guru in 1997.
It has been nine years since she started working as a makeover expert and she has worked with the who's who of the Indian fashion industry. Her work has been recommended by beauty queens, Bollywood stars and Indian supermodels alike.
She has worked on Amrita Rao, Bipasha Basu, Tanushree Dutta, Sayali, Laxmi Pandit, Yukta Mookhey, Neha Dhupia, Indrani Dasgupta, Yana Gupta, Nikita Anand, Anupama Verma, Jesse Randhawa, Fleur Xavier, and many others. Her work has branched out into photo shoots, print ads as well as serials, not just in India, but abroad too. She has worked abroad in countries like the UK, USA, Kuwait, Malaysia, Hong Kong and Mauritius.
This article lists the top 5 bridal packages that one can avail of in her studio-
1. Pre-Bridal Package:
This package is for those days leading up to the big wedding. This one day package includes a Facial (GOLD/ Casmara / Fruit), along with a pedicure, manicure, a haircut, a facial bleach, a body polish. It also includes a full body wax and full body bleach, along with a head massage or hair pack.
2. Signature Spa Therapy packages:
This is a two day package which includes a wide array of services. It includes a Facial (GOLD/ Casmara / O2), along with a body massage, a crystal manicure, facial bleach, a full body polish, a head massage. The full body services include full body bleach and a full body pack, along with a body wax. A hair cut and hair spa are also included, along with a crystal pedicure.
3. Signature Spa Therapy Package – Ultra:
This package is for four to five sittings. It offers Tow Facials (O3 Premium Eminence With Biolifing or Whitening Ampules), an aromatic body massage, hair cut and hair spa in two sittings, face bleach and full body bleach, body pack for skin glow and tightening, full body wax, crystal manicure and pedicure, premium 2 sittings body polish and head massage.
4. Signature Spa Therapy Package – Monthly:
This package is for two months and includes 3 facials, full body wax, crystal manicure and pedicure, under eye treatment, body bleach, hair cut, hair spa, body massage, body pack, head massage and body polish.
5. Other Bridal Services:
These are meant for the day of the wedding. These include makeup, hair styling, clothes styling and accessorization.
At the Villa Moda of June 2003 in Kuwait, which happens to be one of the best fashion destinations in the world, Meenakshi was invited to be a part of them to exclusively promote the products of Laura Mercier and Becca, who are world-renowned. She was flown in overseas to America and Kuwait in order to do bridal makeovers for the Royal Family.
Meenakshi offers a wide range of services, and that makes her the first choice for fashion designers and leading photographers alike. She has also worked with choreographers and model agencies where she has offered her services. Her bridal makeovers have world renown and are the best in India, being in constant demand. She is undoubtedly the most talented makeup artist in India today.