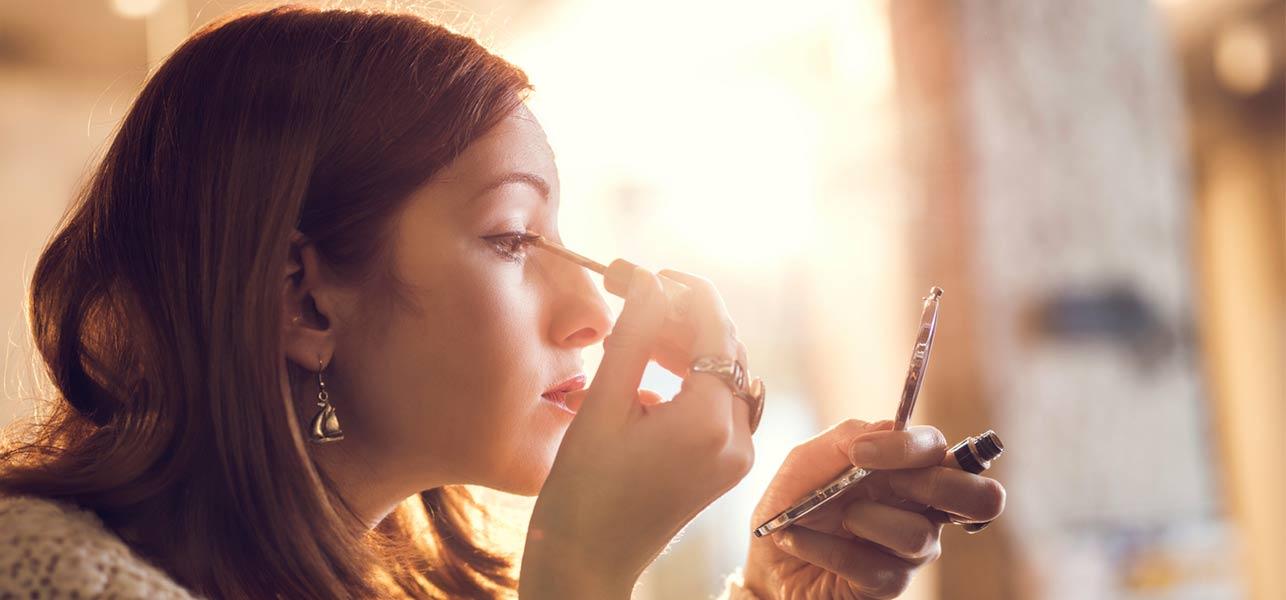 Liquid eyeliner contours and gives a precise definition to our eyes. Simply said wearing liquid eyeliner will give you the WOW effect! However, the task of getting it on perfectly is definitely a tricky task, especially if you have shaky hands. With that, I must admit that if there is one makeup tool that I haven't totally mastered, it is applying my liquid eyeliner. Either it comes out too thick or too thin, or looks like it has been lined by a five-year-old kid. A total disaster.
Thankfully, with new brushes, formulas, and better overall design improvements, I have realized that liquid liners are now easier to use than ever.
So, here's a brief picture tutorial on how to use liquid eyeliner easily. One certainly needs some practice and patience before mastering this art and then you can play around with the liner for the type of contouring you want!
Why Use Liquid Eyeliner?
A million dollar question, maybe! Unlike the pencil eyeliners, the liquid liner emphasizes the eyes in a dramatic way. Additionally, it makes the lashes appear fuller and lasts longer than a regular pencil.
How To Apply Liquid Eyeliner
The most important point before getting started is to make sure that your hand is steady. If you have shaky hands then rest your elbow on a proper support for first few times to avoid uneven lines.
Clean and prime your eyelids. Apply your eye makeup before applying the liner.
Then starting from the middle of the eyelid draw a thick line towards the outer corner of your eyes keeping it close the upper lash line. Remember not to cross your line beyond the upper lash line width wise and make sure you don't put too much pressure on it. Tip:Ensure the brush of the liner is thin.
Then again from middle draw a comparatively thinner line towards the inner corner of your eye.
Retouch the points where the line seems to be broken or uneven. Once done, apply a bit of concealer in the end.
Complete this technique with a dusting of eye shadow. Dramatic!
And VOILA! We are done.
Alternative Ways to Apply:
The above liquid eyeliner tips may not be very appealing for beginners. So here are few more easy ways for applying a liquid liner:
You can place small dots all along the lash line & then try to join them symmetrically & later give a touch-ups for the uneven or bumping line points (Remember the joining dots drawing practice in your childhood!)
Pencil eyeliner is comparatively easy to apply (Refer HERE for tutorial). Apply pencil eyeliner very lightly on the lash line and then darken it with liquid liner. This is relatively easier to do as you already have a line and structure to follow.
If you are uncomfortable by drawing a line from the middle of the lid, you can start from the inner corner of the eye and while coming towards the outer corner try to make the line a bit thicker.
If you face any problem while applying liner to your closed eye, then slightly stretch the outer corner of the eye
Another way to get the leanest line is by using the tip of your brush and looking up and outward in a mirror.
So there you have it, our beginner tutorial on how to wear liquid eyeliner. Hope these suggestions will help you to improve your lining skills. Do tell us if this tutorial has helped you in any way. Even better if you can leave us a picture!
Now, what if you aren't comfortable with the sharpness of the liner, and are looking to soften it out to suit the occasion? No worries as this makeup lesson will help you achieve a softer winged eyeliner look. Now you needn't compromise with the winged look, yet make it look soft at the same time! Here's our DIY makeup hack that will help you carry the beautiful classic winged eyelinershape, but with a softer finish, making it totally appropriate for daytime, college, office or just for a delicate eye makeup look.
Products Required:
Let's make a list of the products that are needed for this DIY makeup hack:
Liquid eye liner
Concealer
Compact or translucent powder
Eye primer
Cotton bud or eyeshadow spongetip applicator
How To Soften Sharp Liquid EyelinerLook?
Read on to know the steps to achieve that soft and sharp liquid eyeliner look:
Step 1:
Hydration is the basic step we need to follow before applying any kind of makeup. The same principle also applies to eye makeup! Gently pat your favorite under-eye cream to moisturize the delicate area and to relieve the dryness. Even a little dryness can make your makeup appear unattractive.
Start by applying and blending it gently with your ring finger till it blends into the skin. People with darker and pigmented eyelids can use salmon or orange color corrector before applying the concealer. Doing this will hide the dark circles, and also create an even base for the eye makeup. Finally, set it with a compact powder to stop creasing of the products applied.
Now apply your favorite eyeshadowto the eyelid area of your eyes. Load the eyeshadowon a flat brush and softly pat the color over the moving eyelid area.
I picked a gorgeous light champagne gold satiny eyeshadowcolor for this tutorial to clearly reflect the effect of the soft-winged eyeliner look. Now, take a black liquid eyelinerand you can do a dramatic winged eyelinerlook like you usually do — thick or thin, totally depending upon your preference.
Step 2:
Now, wait a few seconds for the formula to set and completely dry. Then, take a clean cotton swab and gently run it along the outer edge of your winged eye liner. Swap the cotton bud along the outer edges only, and do not bring it near the upper lash line area. The idea behind this step is to soften the outer sharp edge of our winged eye liner, but you should also remember not to remove the pigmentation of the liquid eyeliner as it might make your eye makeup appear worn out and faded.
Gently press and softly run to and fro motions on the outer edges of the winged eye liner. Remember not to pull the eyelinerover the upper lash line of the eyelid area as it will give a faded and messy appearance, which will not look good even for the casual everyday look.
Step 3:
Now, take a matte black eyeshadowon a thin angled eyeshadowbrush and gently push it on your upper lash line, just above the winged eye liner. This step is optional, and if you are in a hurry, you can totally skip it. I recommend that to do, if you have a few extra minutes in hand as it will increase the longevity of your eye makeup and also reduce the sharp liquid eyelinerlook.
And, you are done! There you have the soft, yet elongated winged eyelinerlook.
Try it and let us know in the comments section below.