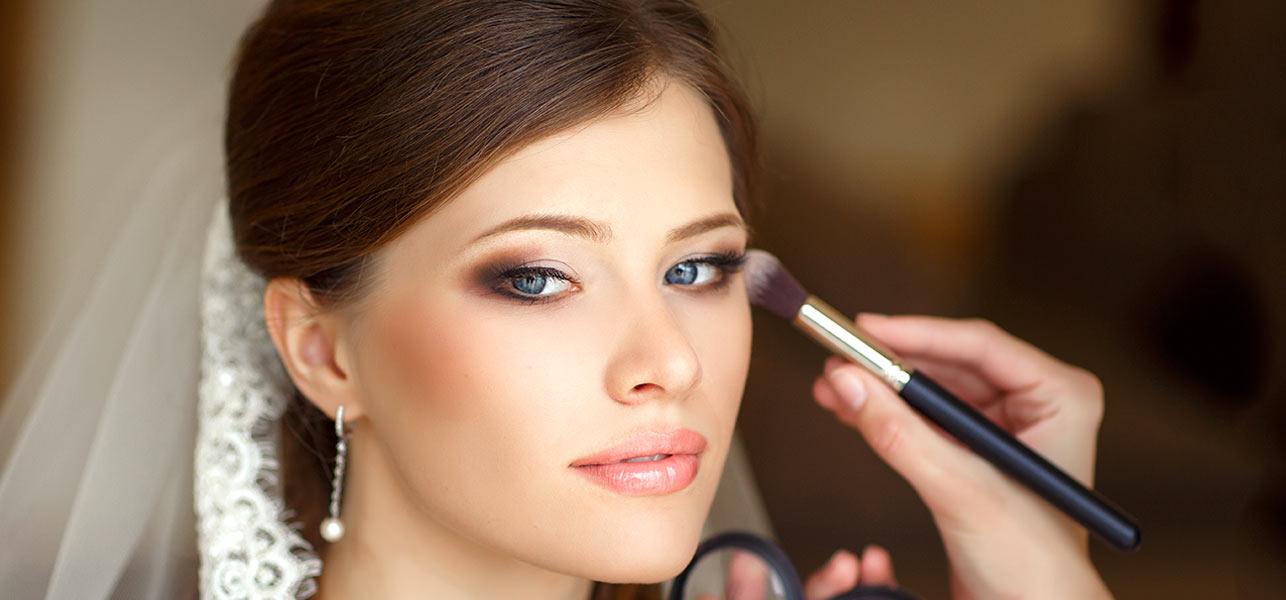 Girls need only an excuse to dress up! We can say wedding is the perfect occasion for it. Indian weddings are all about dazzle and beauty. Even if you are not the bride, being the bride's sister, cousin or friend, its your right to dress up for a wedding party makeup in a similar gorgeous way.
For all you beginners, we got some simple techniques on makeup for wedding party.
How to do Makeup for Wedding Party?
Face: Even out your skin tone with a matching foundation. Blend with a foundation brush or a moist sponge. Don't ignore your neck.
Use a matching concealer to cover any discoloration or blemishes. Now, set it with some loose powder. The base makeup would remain the same for any kind of look― natural or gaudy.
Eyes:  Since Indian weddings are all about glitter and glamour, we suggest doing the eyes bright and vibrant. Colorful coordinating eyes would vamp up the face. Don't be afraid of the glittery shadows. If you want a special effect, having done the eyes with matte shadows, put on some glitters on the lid.
For this, apply some eyelash glue which turns transparent on the eyelid and give it a few moments. When the glue is semi-dry, pat on a little glitter with a synthetic brush. This would make the glitters stay in place neatly.
Line the lash-lines depending on the kind of liners you are comfortable with― pencil or liquid.
If you are in a dilemma about which shades to choose, most quads come in coordinating shades. Check out the eye makeup section and opt for a trio or quad.
Bronze, green, blue and purple eye makeup works the best for Indian skin tones depending on the outfit you wear. You could also opt for smoky eyes for that extra dramatic look.
Cheeks: If the eyes are intense, use a lighter shade of blush or vice versa. If it's winter, dust on a little highlighter on your cheek bones; make your skin look dewy and healthy to get some additional attention. Avoid this in summer. Unless you have dry skin, things may run out of the hand and make you look like a shiny disco ball.
Lips: For the lips, choose a lighter shade if your eyes are heavy. For our skin tone, it's best to avoid the browns. Browns, however elegant may sound to you, is not the best for us. It looks most unflattering on most of the Indian skin tones, making the lips look pigmented and the overall appearance older. But browns with slight tinges of pinks are the perfect nudes. Corals and peaches also work wonders without being as intense as reds or maroons.
Put on some lipgloss for the bling!
But if you are not faint hearted, it's the best that you keep the eye shadows neutral. Line the eyes dark instead and wear vibrant reds or bright colors on your lips.
Some Other Makeup Tips for Wedding Party:
The most hated makeup crime that all of us are prone to commit is a lighter shade of foundation. Foundations are there not to make you look 'fairer', but to hide the apparent flaws in your skin and make the skin look smooth. So match your foundation shade perfectly. If needed, test it on your jaw line and observe in the natural light.
If the eyes are heavy, keep the lips lighter.
You can put on some fake lashes to have the doe eyes.
For pigmented lips, line your lips with a nude lip liner (closest to the natural color of your facial skin). This would help to create the base for the lipstick to hold on as well as hide the pigmentation.
If you cannot find a product with the tag 'highlighter', don't fret! Get a shimmery bronzing powder in a light shade of gold and use it as a highlighter instead.