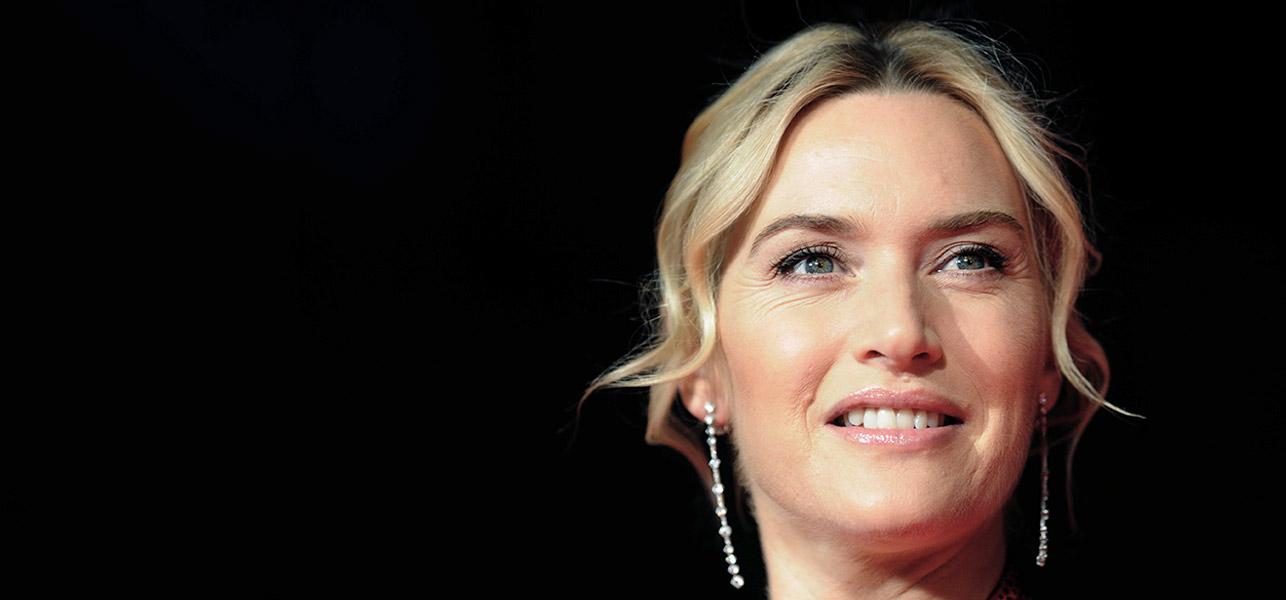 Kate Winslet, the beautiful English actress and singer, was the youngest person to receive six nominations for the Academy awards. Kate is known for her icy blonde hair and her classic sense of style. Kate exudes beauty in every way. This gorgeous lady has always been praised for her fine performances and her impeccably, unconventional looks. Not everyone is blessed with such serene looks. Her friends say that she looks better with growing age and there ain't no secret of any makeup behind it all, it just plain and simple beauty.
Kate Winslet Without Makeup Pictures
Following are some of the top pictures of Kate Winslet without makeup.
1. Bewitched:
We could not help but fall for our lovely lady's bewitching beauty. With just a trace of silvery eyes and nude lip gloss, Kate looks like a million bucks in this classy white jacket with black top. She opts for geeky spectacles that stand out with the outfit. This glamour set aside Kate Winslet no makeup look is just captivating, isn't it?
[ Read: Britney Spear Without Makeup ]
2. Kate Winslet Close Up Look:
Kate lets us zoom in closer to her pretty face. With that simple smile, beautifully colored eyes and blonde hair left open, this picture is a perfect example of how natural beauty wins hands down against makeup.
3. Black Magic or Bag Magic!:
The wax-like smooth complexion of Kate is perfectly complemented by this black number. Kate dazzles us with the smart bag which contrasts beautifully with her outfit. One doesn't really need makeup if you have that sense of style.
[ Read: Aishwarya Rai Without Makeup ]
4. Red At The Bay:
How stunningly beautiful does Kate look in this LBD teamed with a bloody red overcoat and red lip color. Kate seems to enjoy her outing. Her low bun completely complements her somewhat formal attire. She sure knows how to look like a diva sans makeup.
5. Fly in Style:
Comfortable blue denim, check; basic black top, check; warm overcoat, check; gum boots, check – Kate believes in flying in style. But her style is always effortless. That cream bag and high pony make her nothing short of a style diva. And wait, we see no trace of makeup, do we?!
6. Kate Winslet Cover Photo on TIME Magazine:
Kate Winslet poses for the cover of TIME magazine after winning the best actress' award for 'The Reader'. This picture exudes composure. Our diva dares to wear no make up for the shoot. We aren't even guessing what she is wearing. And why should we? With that beautiful face to gaze upon, who needs to?
[ Read: Without Makeup Bollywood Actress ]
7. Raw Holy Smoke:
Kate sports a no makeup look for her films too. This picture is a shot from her Australian drama film Holy Smoke. Kate kills it with her raw sex appeal and performance in the movie.
8. Deep Thoughts:
Kate looks spectacular in this simple high-collared and puff-sleeved black shirt and a somewhat lose bun. She seems deep in her thoughts and we aren't complaining. We are in love with this 'much in thoughts' look of hers without any trace of makeup.
9. Kate Winslet with Her Son:
Kate and her son both seem to be in their elements here. Kate sure is a great mom and makes sure to spend quality time with her kids. Long black overcoat and cross bag is all she needs to step out for a day out with darling son.
[ Read: Angelina Jolie Without Makeup ]
10. Kate Winslet in Casual Denims and Leather Jacket:
It's not always that you see our glam doll Kate in casual denims and leather jacket. Smartly she wraps a scarf around. High bun done with the help of fingers looks damn stylish on Kate. Busy talking over the phone, we love how she manages to look hot with no makeup at all. It's all about attitude in the end!
So what's your take on these Kate Winslet without make up pictures? Do comment to let us know!