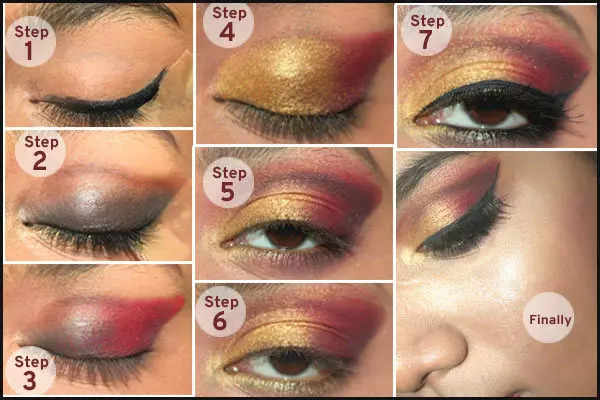 Marriage is a life changing event. But what most women plan for is not the elation but the occasion. The dream wedding is what all women aspire for. And why not? Every woman deserves to look her best on this special occasion. This is the day the bride rules the roost! But that dream wedding is not easy to come by. Every bride goes through a tough time to decide what to wear and how the makeup should be. If you are looking for fresh bridal makeup ideas, we have just the thing for you! Here's a gorgeous makeup look to spice up your big day.
10 Steps To Get Gujarati Bridal Makeup Look
The eyeshadows in this makeup look can be tweaked easily to suit your preference. So, ready to learn some new makeup tips? Let's begin!
Eye Makeup:
Step 1:
Start with clean and fresh eyes. Apply a good eye cream to hydrate the delicate eye area. Here, I used the Banjaras Almond Under eye cream. Then, conceal all the under eye dark circles with a full coverage concealer. As it is a dramatic eye makeup look, try to achieve a flawless skin to get a sultry look. Here, I used Kryolan Derma Camouflage Concealer.
Step 2:
Start by lining your upper lash line with a creamy jet black colored kohl or gel liner. Here, I used Maybelline Drama gel liner in Black. This step needn't be neat as we will be smudging it later. Apply a medium matte black eyeshadow above the kohl to set the creamy formula. I used Kryolan matte black eyeshadow to complete this step. Then, apply a medium matte brown eyeshadow to the crease area of your eyes. I used the Avon Mocha matte brown eyeshadow to get the desired look.
Step 3:
Apply a bright vivid matte red color eyeshadow to the outer third and two third areas of the eyes overlapping the brown eyeshadow placed in the previous step. Here, I used Claire eyeshadow in 0504 for the bright matte red eyeshadow.
Step 4:
Wet a flat eyeshadow brush and apply a shimmery gold eyeshadow to the centre of the eye lid area. This step gives a brighter look to the eyes. The wet brush intensifies the color of the eyeshadow. I used Lakme eyeshadow palette in Tanjore Rush to get that shimmery gold eyeshadow.
Step 5:
Now, start blending the eyeshadows together to create a seamless smokey eye look. Use a fluffy blending brush for this step.
Step 6:
Apply a matte plum color to the crease area to give some dimension to the makeup look. Here, I used a deep plum shade from Elf Day on the Beach eyeshadow palette. Then, use a fluffy brush and blend it with the red eyeshadow.
Step 7:
Use false lashes to give a heavy dramatic look to the eyes. Apply lots of mascara and also line your upper lash line to define your eye shape. I like to keep the look dramatic so, I created a strong wing at the outer corner of the eye.
Face Makeup:
Step 8:
Apply a full coverage liquid foundation to your face using a flat foundation brush or a sponge. Here, I used Mac Studio Fix Liquid Foundation. Then, set the face makeup with a compact powder to prevent budging. For this step, I used Lakme Face Stylist Compact.
Step 9:
Apply a light pink matte blush to the cheek area softly. I used Lakme Chromatic Blushes in Day Blush to get the perfect rosy cheeks.
Lip Makeup:
Step 10:
Apply a deep maroon lipstick to your lips. This step can be replaced with a nude brown or pink colored lipstick too, but as the makeup is for the bride, I preferred a brighter intense red lip color. Mua lipstick in shade 1 is topped with a clear Revlon lip gloss to create the lip makeup.
And you are done!
On your big day, try something new. Set a trend and wow your future hubby. Remember, you'll be looking at your wedding pictures for years to come!
Hope you found this tutorial easy and useful. Do try it and leave your feedback in the comments section.